plus a one 2 year old who served as the official 'mini elf'.
And if that isn't enough to make someone feel jolly- well imagine what happened when those same little elves saw Santa land in a helicopter on their school playground!
Yes, I had a smile on my face all day. I actually still do :)
So continuing in that happy spirit of Christmas, today I want to show you my Christmas mantle. This year I really wanted to incorporate
more greens into my decor
. When I lived in South Louisiana, the school where I taught sold fresh Christmas greens as a fundraiser each December. They were beautiful, fragrant and so rich in color. I knew that was the direction I wanted to go this year.
I ended up using 'fake' greens (to match my fake tree- ha!) because they are economical and can be re-used. I found a large wreath at Hobby Lobby, half-off of course. Then I added different textures and types of greens, feathers, sticks, bits of holly, and some ribbon.
I
made these stockings
for the girls last year out of burlap and buttons. Now that I look at them, I can see a similarity between the ruffles on top and the
lamp shades
I made for our bedroom.
The other details of my mantle come from odds and ends around the house. A nutcracker from my Christmas collection, silver from the dining room, a glittery star ornament, bead garland, old family books, and a small green plant in a galvanized pot. I like the white details against my dark painted fireplace and the green wreath really makes it 'feel like' Christmas to me.
Thank you to everyone who has shared their blogs or photos with me. This season, I would love to see what you are crafting- so please feel free to leave a link or email pictures. Christmas decor is so personal and unique, I can't wait to show you a few other projects that I have made for the holidays.
Until then, I hope you are having an 'elf-tastic' time getting ready for Christmas !
Thanks to these great bloggers for hosting inspirational linky parties this week: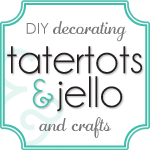 I am feeling extra 'merry and bright'. Probably because I spent the morning surrounded by 21 kindergartners dressed as elves...