'make-over' on my husband's office
, one of the biggest changes was the drapery. The room had a naked window. And it was in need of some help!
So, inspired by these two images,
I decided to create some bold black and white curtains.
Have you seen my Black/White board on Pinterest? I have just been waiting to include something like this into my home:)
I knew I could probably sew stripes onto neutral panels. But for some reason, I wanted to paint.
Here is what you need to create your own painted curtains:
-curtain panels
-tape measure
-pencil
-drop cloth
-paint & paint brushes
These panels are perfect- only $30 and a great linen color. Plus I love how the rod pocket on top can be used to create 'pleats'.
The math, measuring, planning part is not my favorite thing to do, but it is a must. I made my stripes 4.5 inches wide.
I tried using a chalk-line to draw the lines, but it kept leaving blue dots all over my 'white stripes'. So I ended up drawing a tick mark on each side and then used a straight edge to connect them with a line.
Finally I painted. North Texas has had 60+ days of horrendous heat, so I chose to paint inside in my house. I used newspaper because the fabric is porous. But use a drop cloth instead- the newspaper stuck to the back of the curtains and I had to pick it all off later. Ugh.
The whole thing took 'two naptimes'- so about 4 hours. It kind of reminded me of my
stenciled wall paper
. project. It's a fine motor skill project that requires a steady hand. You could also try using painters tape and then using a paint roller to apply the paint.
When they were done,
I hung them using the 3 Rules
. I think they made a huge difference in the room.
Have you ever painted fabric? Curtains, linen lamp shades, a couch? Sometimes painting just seems more fun that sewing!
Linking up here:
http://homestoriesatoz.com ,
tator tots and jello
,
be different act normal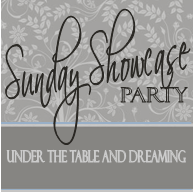 When I did a